HOW TO GET TO MOAB: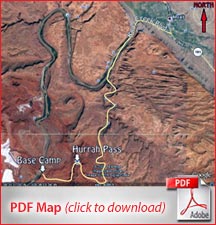 Here are your public transportation options.
Fly into Moab Canyonlands Field. About 20 minutes south of the airport on Hwy 191.
Fly into Grand Junction, about two hours away. Take I-70 west to 191 South, exit, about 30 minutes to Moab.
Fly into Salt Lake, which is about a four hour drive to Moab. Take I-15 south to Hwy 6 through Price to I-70. Turn left (east) on I-70 at Green River and take Hwy 191 South into Moab.
There are various shuttle services from surrounding cities.
Train into Green River. My experience is that they are always late and sometimes up to four hours. You'll have to arrange for one of the shuttle services to pick you up.
HOW TO GET TO BASE CAMP FROM MOAB:
Drive your vehicle. The road currently does not require four wheel drive but some ground clearance is a must. If you have a passenger car it's likely Your Car and Mother Earth will have a touchy feely relationship during your drive up and down Hurrah Pass. If you believe a Mother Earth relationship with your vehicle is inappropriate... the more ground clearance the better.
DIRECTIONS TO BASE CAMP FROM MOAB:
- From Route 191 go west between Burger King and McDonalds, turn on "Kane Creek Blvd." Sometimes spelled "Cane Creek Blvd"
- At the Y in the road, STAY STRAIGHT, and the Colorado River will be on your right side.
- After 4 miles of paved road it will turn into a hard packed dirt road- RESET YOUR ODOMETER NOW- You'll wind through the canyon and then into a valley area. You will cross over two creek beds. Depending on the time of the year, they'll probably be dry. If it's raining heavily, use discretion. The canyon lands produce quality mud.
- You will cross over two creek beds. The first, Hunter Creek, now has a bridge over it. The second, Kane Creek is usually dry but if it's raining heavily use discretion. The canyon lands produce quality mud.
- At approximately 6.3 miles from where you left the paved road you will see the "Hurrah Pass" sign. It will come after you cross the second creek bed. The road splits solidly. Take the right fork.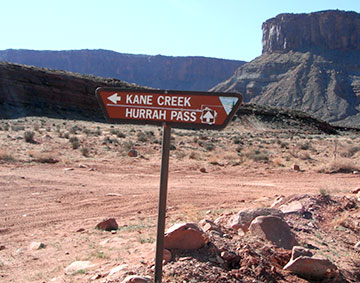 - From the time you left the paved road depending on how comfortable you are at driving at best a dirt road this should have taken you about 30 minutes to begin your ascent up Hurrah Pass. You will go 2.7 miles from this point to the top of "Hurrah Pass". There is substantial elevation to the road leading up the pass and down again. If height is an issue for you, the next 30 minutes are going to be full of issues.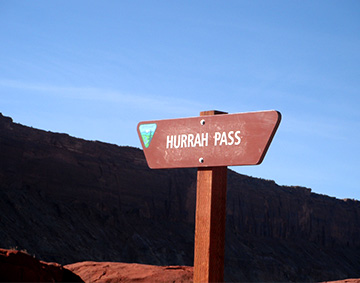 - At the top of "Hurrah Pass" you will be able to see the roof of Base Camp directly in front of you, just this side of the widest part of the river. If you have a walkie talkie we are channel 21. If you have Verizon or US Cellular and walk around and experiment a little you can get two bars on your cell on top of Hurrah. This will likely be the last time your cell phone works though we've found two places at the lodge where if you stand just right, put your phone on speaker, hold it in the air, point it at Hurrah Pass, you might get one bar.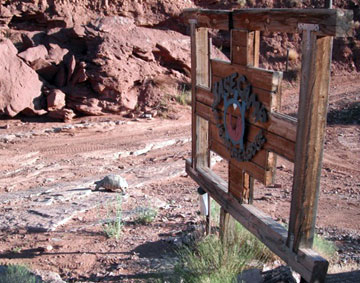 - From the top of Hurrah down the west side is exactly 2.3 miles to the Base Camp sign. YOU MUST TURN RIGHT AT THE SIGN. Kobae our security tortoise may be out wandering the property and he loves to hang out here so don't run over him. Turn right at our sign. Go down the hill and through the creek bed and we are the first left hand turn.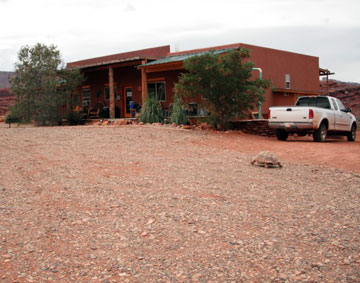 You will see a parking area on the left and WELCOME!!!
If we know you're coming and we're out with guests or hiking with Kobae we'll leave you directions for your room or there will be a walkie talkie on the cooler on the front porch. Use it to call us. Probably there will be both.